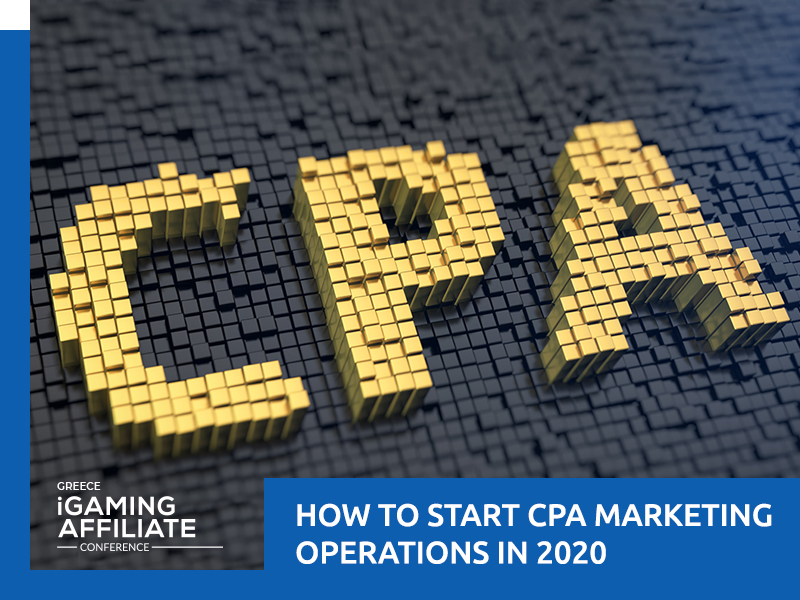 CPA Marketing for Beginners 2020
CPA marketing is one of the best ways to promote goods and earn on the Internet. Its core advantage is the fact that everyone can engage in this activity. What is the particularity of CPA? How to start working based on such a model?
CPA Marketing for newcomers
Affiliate marketing means a way to gain profits for promoting third-party services or products. CPA (Cost Per Action) is one of the earning patterns in affiliate marketing. Payment is charged when users conduct certain actions: enter a page, fill out a form, subscribe to a resource, or make a purchase.
To realize the CPA operational concept, you should explore the basic principles of affiliate marketing and key terms.
affiliate or publisher: a person who promotes someone else's products and services, receiving a fixed amount of money or a fee;

advertiser: a brand or a website whose products are promoted on the Web by affiliates;

affiliate network: a resource placing advertisers' offers in order to find partners and promote goods;

traffic: a quantitative indicator of website traffic;

landing page: a website or a page where necessary traffic is redirected.
How does it work in practice? For example, there is a certain resource with products that the brand sells or would like to sell, but customers hardly buy them. In this case, affiliates have to spark the target audience's interest, bring clients to the resource, and encourage them to make a purchase. As soon as a person buys a product following the referral link, the partner obtains the fee.
The CPA business model is based on the concept of paying off fees when somebody carries out certain actions: not only purchases but also watching videos, clicking on the banner, filling out the form, etc. A CPA network implies platforms that unite advertisers and affiliates desiring to cooperate within this payment pattern.
Advantages of CPA marketing
Low barrier of entry. The cost-per-action model has a range of benefits. The main one: it is quite easy to start earning on CPA marketing. How to implement this idea? You should develop a website (sometimes you can do without it), choose a niche you are interested in (or several ones), define goods and services, register in the CPA network, and begin to work.
Newbies can earn as well. You should not necessarily be an expert from the start to get income in CPA marketing
This business option allows to work and study in practice by testing various offers. You can distinguish the most convenient and profitable methods, optimize them, and gain experience to earn more.
Extra profit. You should not leave your primary job to try on the role of publisher. You can examine CPA and gradually explore this industry in your free time.
Passive income. Well-adjusted operational schemes will provide publishers with passive income. It happens after a particular time and acquisition of sufficient affiliate marketing experience.
High return on investment. CPA affiliate programs feature pretty high ROI (Return On Investment) rates.
Working with reliable Affiliate networks, partners get tools for statistics monitoring, a huge range of offers, off-the-shelf landing pages, technical support, and a possibility to control payments.
How to choose an affiliate program
There are numerous CPA networks offering beneficial conditions for publishers, including beginners. You should select whom to work with based on several criteria such as the existence of the network, partners' feedback on various resources, the availability of technical support, as well as tools for statistics and payment tracking. Given below are some noteworthy networks.
MaxBounty. It has been operating since 2004 and is considered to be one of the most popular Affiliate networks.

Clickbooth. A rapidly growing network with a wide choice of offers from various niches. Its affiliates are totally provided with approximately $100 million per year.

PeerFly. It cooperates with advertisers and affiliates from 165 countries as well as offers diverse solutions in popular categories by well-known brands.

Above All Offers. The network is promptly evolving, attracting more and more partners and advertisers for collaboration. Publishers are offered a large selection of tools and twenty-four-hour support.

Cpamatica. A popular affiliate CPA network specializing on dating, Nutra, and White-hat. It allows to withdraw money once in a week as well as includes different payment methods, in particular, bank cards and PayPal.
How to start earning on CPA marketing
You will be able to discover how to improve your profit when dealing with affiliate programs at Greece Gambling Conference organized by Smile-Expo. The specialized event will take place on April 29.
After registering in a CPA network, you should choose an offer with appropriate terms. Afterwards, the offer can be promoted using your website or creating a landing page for informing customers: it should be designed in such a way as to draw visitors' attention and motivate them to perform a certain action. Let's review the key characteristics of this page.
Headline. It is the first thing seen by users. A headline should be spectacular, appealing, aspirational, and as brief as possible. A careless approach to this aspect will make potential clients shift to another website without completing an action.

Subheadline. It is placed below the headline, containing additional information about goods or services promoted by a publisher. The subtitle can be longer than the title and should capture attention and retain customers on the website.

Crucial advantages. It is important to specify the top benefits that users can get when committing an action. This text should be maximally informative and easily perceptive. It should be given as a list.

Action button. A landing page without a call for action or purchase has no sense. Even users who are ready to buy won't look for an action button for a long time while doubtful ones will immediately leave the page. The call should be visible and alluring, but not aggressive.

Feedback. It is essential to provide consumers with a user-friendly form to enter their contacts: e.g. a name and email for feedback.
The quality of a landing page also affects conversion: it will be better than during sending directly social media traffic or newsletters. You can create the page on your own or address professionals. However, templates are considered to be the best possible option in terms of the quality-to-price ratio, especially if a publisher deals with many offers and has to generate landing pages quickly.
Common mistakes of beginning publishers
Don't hurry up in order to act efficiently. You should select operational procedures, offers, traffic generation methods by testing and analyzing the results. At the same time, you have to take into account common pitfalls faced by newcomers.
Improper selection of themes. Choosing a website theme, you should determine what sectors you would like to work with. Selecting the most popular ones is a poor idea, as they are accompanied by severe competition.

Incorrect affiliate program. Affiliate networks frequently focus on certain offers, thus you should select a CPA network depending on its specific nature. Working conditions play a significant role as well, but to a lesser extent.

Poor quality traffic. Cheap traffic is inefficient and non-compensated on a long-term horizon.

Too simple offers. Popular themes are intriguing, but it is difficult to begin with them. You'd better join top-tier high-return niches with some experience.

Neglect of the audience's interests. Prior to developing the website and content, you should examine the target audience and focus on its interests. Beginners often forget about this, which results in small resource traffic.

The absence of optimization. You should constantly work on content and material presentation as well as introduce changes given the analytical outcome.
If something fails to work or works poorly, you should reconsider your approach, try to implement new methods, and apply creative solutions.
How to attract targeted traffic
After registering in the affiliate network, selecting the offer, and designing the landing page, you can proceed to traffic generation. There are several methods allowing publishers to enhance page traffic and increase total income.
SEO. High-quality content and seamlessly elaborated keywords are critical in traffic driving. The narrower theme of the website or page, the easier the resource can reach top positions.

Contextual advertising. Targeted traffic is generated using advertising displayed in response to search queries.

Banner advertising. Placement of advertising banners on specialized resources with an appropriate audience.

Social media. Promotion via popular social networks such as Facebook, Instagram, and YouTube.
Publishers use special services and tools, for instance, Google Search Console, Google Analytics, etc.
Conclusion
CPA marketing is a simple and user-friendly earning pattern in the affiliate marketing industry. Even newbies will be able to get revenues there. The main thing is to test traffic generation techniques and promotion methods, as well as to regularly optimize traffic driving means.
---