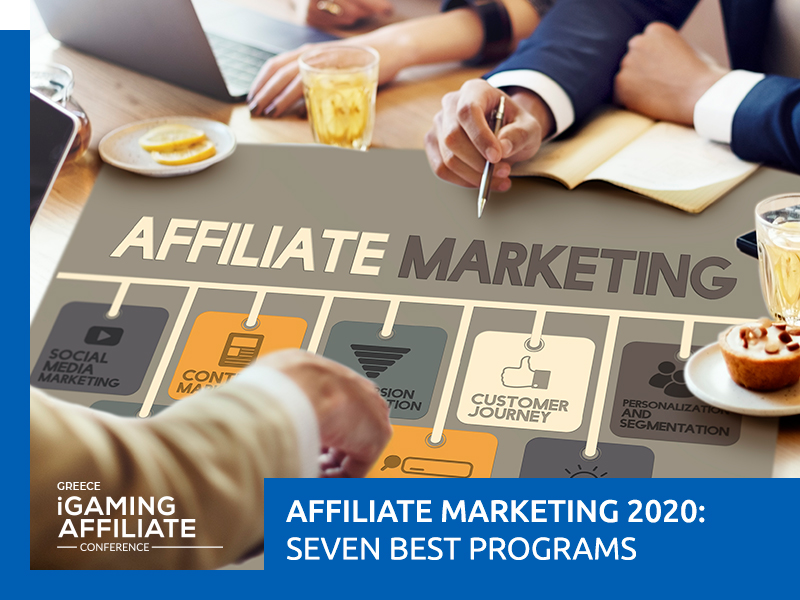 Seven Best Affiliate Programs 2020
Affiliate marketing is an efficient and convenient way of making money online. For a start, it is sufficient to set up your own website and join an affiliate program. What programs offer the best conditions in 2020?
Affiliate marketing platforms differ by the payout frequency, commission fees, tools, and offer types. Collaboration with the most suitable affiliate program can help you gain the highest conversion rate and obtain a stable passive income.
The best 7 affiliate programs 2020
Let us view several popular affiliate marketing programs that you can join this year. Each of the listed platforms has been operating for a long time now and gained the trust of thousands of affiliates.
Amazon Associates affiliate program
This well-known e-commerce platform sells and delivers a wide assortment of goods in different countries of the world. The company's turnover reached $201 billion in 2018. Amazon Associates offers a huge variety of niches and for this reason, is good for both beginners and experienced webmasters.
The program offers the following advantages:
from 1% to 14% from product price purchased after clicking the affiliate link;

diversified and popular goods (34 product categories);

simple registration;

monthly payouts.
However, the program has certain disadvantages:
the program often changes the rules;

just three withdrawal methods are available (one of which is valid for the USA only);

24-hour affiliate cookie – a small timeframe as compared to other platforms.
Overall, the website is optimal to start earning through affiliate marketing, but you have to understand the rules of operation and adhere to them strictly. Otherwise, you can receive a ban and get all your payouts frozen.
eBay Partners network
Another popular online market eBay is also interested in the acquisition of new buyers through affiliate programs. Like Amazon, this trading platform offers to choose from millions of goods of different types, which is very convenient for webmasters with different experience and competence. Affiliates that join the program get a 3–5% commission. There is no multilevel referral program.
The program has the following advantages:
diversified market and a great choice of products;

simple rules of gaining profit: clicking the referral link brings you money;

a double commission in the first three months of work;

integration with PayPal, which does not take a fee for withdrawals.
Disadvantages of the program:
the user has to make a purchase within 24 hours after clicking the link or to win the auction within 10 days;

you have to run your own website;

a rather low commission.
Despite the fact that not all countries have access to the affiliate program, eBay is considered a popular platform for affiliate marketing. The eBay Partners network is a good option for the start in affiliate marketing and additional income.
Shopify
Shopify is a cloud-based multichannel commercial platform intended for companies of any size. It is designed to create, set up, and manage your stores across several sales channels. The company has an affiliate program with high commission. For every referral that arranges a paid subscription, the affiliate gets a 100% reward.
The advantages of the program are as follows:
simple and user-friendly navigation;

withdrawal procedure through PayPal;

the cookie lasts for 30 days.
Disadvantages of the program:
poorly organized deep linking system;

the conversion window is small for the customer to make a purchase;

niche affiliate program.
It is easy to start working with Shopify, as the system is intuitive. Moreover, the resource runs courses that help to master the basics of affiliate marketing.
Fiverr Affiliate Program
Fiverr is the largest online platform for freelancers working in such categories as business, marketing, programming, design, translations, and many others. The company pays high fixed commissions ranging from $15 to $150 for new customers. The sum of reward depends on the subcategory, for example, the purchase of Fiverr PRO Services will bring you $150. Furthermore, Fiverr Affiliates has dashboards intended to launch, manage, and monitor campaigns, and it operates in over 160 countries of the world.
The program offers such advantages:
the cookie file lasts for 30 days;

low withdrawal threshold;

on-staff affiliate marketing manager.
The program has the following disadvantages:
Fiverr PRO offers restricted commissions;

unappealing creatives and banners;

affiliate commissions are paid only for new buyers.
Fiverr is one of the market leaders, but it is important to know how to work with its category of services. It is recommended for the webmasters that specialize in the freelance niche and understand how to promote it.
Affiliate program of AliExpress
AliExpress is a big e-commerce network that consists of small retailers, wholesalers, and suppliers. The company successfully competes with such giants as Amazon and eBay. The affiliate program of AliExpress offers from 1% to 9% commission, but promo products can bring you even more money.
Advantages of the program:
low withdrawal threshold;

intuitive deep linking system;

you can create tracking identifiers to monitor performance.
Disadvantages of the program:
the cookie lasts for a very short period of time – just three days;

withdrawal fee is $15;

complicated rules of the program and poor analytics.
You can try to earn money with this affiliate program, but do not expect a big income. However, small and stable earnings are quite possible. The affiliate program is good for a start in affiliate marketing.
Affiliate program of BodyBuilding.com
Bodybuilding.com ­is one of the world's most popular and visited websites about bodybuilding and a big online company that sells sports supplements. Its base includes around 12,000 products (sports nutrition, supplements, vitamins, clothes, accessories). All of them are available at prices that are attractive to customers. The resource boasts a good reputation, operation speed, and reliability.
The convenience of collaboration with BodyBuilding.com is that the webmaster can choose from two lucrative affiliate programs. One of them allows attracting customers to the sports nutrition store, and the other offers to promote the subscription to the biggest fitness resource.
The program has the following advantages:
5–15% or 50% commission depending on the program type;

the cookie lasts for 9 or 7 days;

a set of customer acquisition tools is available (including deep linking);

wide GEO reach.
The program's disadvantages:
just two payment methods – PayPal and Wire Transfer (you can set up other systems if you contact technical support);

a narrow niche that requires the experience of work with similar affiliate programs and understanding of where to promote them.
Fitness is one of the best-paid affiliate niches in the world. The high average order value of its products (equipment, gym machines, and special nutrition) ensures an excellent profit per click for affiliates. BodyBuilding.com works with webmasters all over the world.
Affiliate program of ClickBank
ClickBank is an American product platform that sells electronic goods. The resource has been operating in the market for 18 years, working with both sellers and webmasters. Affiliate payouts are calculated basing on the bid. Besides, a referral bonus is available. The program uses the CPS model.
Advantages of the program:
accepts all GEOs;

a wide choice of payment systems;

access to analytics, the quick generation of links.
Disadvantages of the program:
the system applies fines for inactivity (if the balance is positive);

to withdraw funds, you have to fulfill certain conditions related to the number of sales.
This affiliate program offers high commissions of up to 75%. Besides, ClickBank is known for its regular payouts and excellent reputation.
To conclude
Both beginners and experienced webmasters can earn decently by choosing an affiliate program with suitable conditions. When you start in affiliate marketing, it is important to try working with several affiliate programs, test them and choose the most appropriate one. Besides, you need to take into account the audience of your own website, the number of visitors, and correlate it with the desired income. The number of affiliate programs that the webmaster signs up with is not restricted.
Key aspects of affiliate marketing
Before starting the work, it is important to understand the main principles of affiliate marketing: how it functions and why it is useful for business. It helps to understand what affiliates get paid for and how their activity helps advertisers.
---
What is affiliate marketing?
Affiliate marketing is a process where the affiliate promotes and sells somebody else's services or goods. The affiliate receives a cash reward for successful work from the company. The sum can be fixed (for example, pay per click) or make a certain percentage from the cost of the sold product.
---
How to promote goods and services?
Affiliates either advertise somebody else's products on their own websites, video blogs, Instagram profiles, messengers, and themed channels or buy traffic on other resources and redirect it to the advertiser.
---
How does affiliate marketing work?
Companies set up affiliate programs where they engage affiliates. The latter are provided with the information about the goods, referral links, and often even advertising materials in the form of banners and widgets, which have to be placed on sites with an aim to motivate visitors to take the desired action.
---
How affiliate marketing helps businesses?
Affiliates bring new users to websites that sell products or services, mainstream the brand and make it more recognizable. Affiliate marketing helps to grow sales and the overall profitability of the business significantly thanks to the inflow of new customers.
---